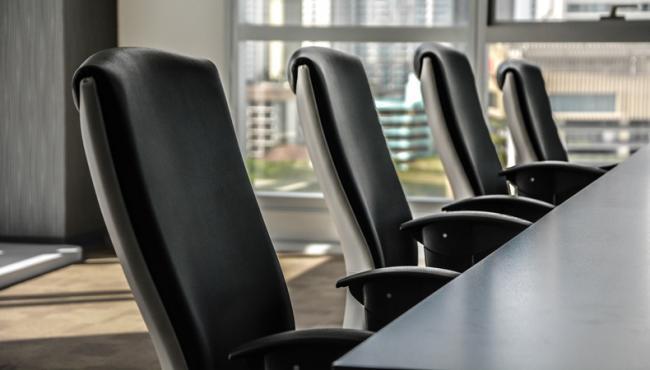 It's time to get to know the people who want to get to know you.
Six candidates have tossed their hats into the ring for the two open positions on the PDGA Board of Directors, a group that is required for non-profit status and mandated by the PDGA bylaws. In addition to semi-annual summit meetings, the board conducts monthly teleconferences with staff to accomplish its varied goals, such as setting PDGA policies; hiring and supervising of the executive director, who is responsible for headquarters, staff, and ongoing operations; financial management, including an annual budget; identification of responsible future board members; and representing the membership's visions for the future of the sport and the association.
Two at-large board member positions will be elected this year, with the pair receiving the most votes stepping in for three-year terms from September 1, 2019 to August 31, 2022. Elections take place throughout the entire month of July. For additional information, please refer to the PDGA Elections page.
Here's who wants to serve the PDGA's ever-expanding membership base, along with their statements of intention.
2019 Board Candidates
Location: Utrecht, The Netherlands
Born: 1975
Gender: Female
Education: Computer science and psychology
Occupation: Self-employed
Professional Experience: Before I became self-employed full-time in 2002, I worked as a system admin for about four years, and two years as a digital video editor and studio assistant, the latter four of which while living abroad in Italy. My self-employment career took me to live music, where I either worked as a stage technician, or a tour manager, and toured the world for 17 years. At the start of 2019, I became a counselor for Transvisie, a self-help patient organization, in an attempt to pay it forward.
Disc Golf Experience: What started out in 2010 as the accidental beginnings of my competitive disc golf career – I was invited by my sister to come check out the sport she plays, during a new course opening party, and possibly even throw a few discs myself – has evolved into much more than just competing.
My competitive skills never really got past "will hopefully get a par on this hole." Instead, in a facilitating role, behind the scenes, I believe I played a much more prominent role. Most notably, I served as:
PDGA Board of Directors member (2015-2017)
PDGA Europe Tour Manager (2014-2018)
PDGA Europe Interim Administrator (2016-2018)
While in those roles, I have been involved with the running of 30-plus international events of every level imaginable, from C- Tiers to Pro Worlds. Most often I would be involved in registration and administration, scores processing, and officiating.
Joining the Dutch Open 2011 organising team, I had spent a few weeks programming an automated registration procedure for that event. Starting with that season, and that even being the season's first, the EuroTour would become the first tour series that used ratings-based Tiered registrations for multiple divisions. Several other events used that code, and ultimately, because of the Estonian Open TD asking permission to use that code for their event, it ended up providing the backbone for what was to become Europe's leading registration and live scoring platform: Disc Golf Metrix.
Biography: I am a self-made person with a can-do attitude, not in the least documented by my nearly 20 years of experience being self-employed in two industries. I am very passionate about live music industry and disc golf. To place even more importance to being self-made, I came out as transgender in 2016, and have successfully transitioned, both socially and professionally, basically rebuilding myself from the ground up; Phoenix from the flames, if you will. And that transition has made me a more complete, in-tune, empathetic human being.
I have a pre-teen son; he lives with his mother and little sister in Germany. In my spare time, not on the disc golf course or on stage, I am a reader of fiction, a cooker of fine food, a good friend to her friends, and thrower of parties.
Candidate Statement: Many players across the globe will already know me through my disc golf accomplishments, but almost all of them are achieved off the fairway. In these nine years that I have played competitive disc golf, literally all I have to account for are one tournament ace (but, I got to high-five with Climo and Wysocki upon retrieving that disc from the basket), four wins (across three countries and two continents), and a few second- and third-place trophies from EuroTour events and countless tournament-stamped discs from all over the world. The one trophy that will probably mean most to the outside world, if at all, is my 2018 Nederlands Kampioenschap (Dutch Champs) title in Pro Masters 40+. The one that is most important to me, personally, is the Pro Women title at Jarní Špalíček 2019 – Cheb, a local C- Tier tournament in the Czech Republic.
During my tenure as chair of the Werkgroep Disc Golf (2010-15) and serving as Board of Directors member (2011-13) at the Nederlandse Frisbee Bond (Dutch Flying Disc Association), I helped change the disc golf landscape in my country by facilitating the migration from individual association membership to a member/club/association structure. That change was instrumental in allowing structural membership and events growth; and as a consequence, that resulted in the growth of the number of courses.
On an international level, things moved quickly. I started out as PDGA Country Coordinator for The Netherlands (2012), and when the other European country coordinators joined together as the PDGA Europe Committee they unanimously elected me as PDGA Tour Manager (and held that position 2014-18). That same weekend (at the 2014 European Disc Golf Championships) I had been presented the 2013 PDGA Europe Volunteer of the Year Award. I reluctantly accepted that trophy, because I felt it was prematurely handed to me, since I had only just begun giving to disc golf. So in accepting, I also asked for permission to see it as a prematurely handed out lifetime achievement award.
In June 2015 I was added to the PDGA Board of Directors to fulfil the remainder of Karolyn O'Cull's term on the board. Immediately following that, I was elected as the first European member on the PDGA Board of Directors and served on numerous PDGA committees, some of which I still serve on. Per August 1, 2017, I resigned from that position to fully focus on my work as PDGA Europe Interim Administrator (2016-2018).
Through my various job titles, I have been intimately involved with many disc golf tournaments in core staff positions across Europe and the USA, from helping local tournaments gain permanent international attraction, like Amsterdam Open (2013-15); to scores manager and/or tournament official roles at European Disc Golf Championships (2014, 2016, 2018), Finnish Championships (2016,2018) and at PDGA Major events like European Open 2017, Pro Worlds 2017, and Konopiště Open 2018; and performing a multitude of tasks behind the scenes or on-site at the majority of the EuroTour and EuroProTour events between 2015 and 2018.
As to the why of me announcing my candidacy for the 2019 PDGA Board of Directors election and not the PDGA Europe Board of Directors?
I find it important that, while PDGA Europe is starting to walk without its hand being held by the PDGA, the PDGA remains an organisation that has international and European representation and voice (i.e., a vote) from within.
And like I said about that 2013 PDGA Europe Volunteer of the Year award, I still have so much left to give to the disc golf community at-large. I feel that through my election to the PDGA Board of Directors, I may continue doing so.
source: https://www.pdga.com/news/get-know-2019-pdga-board-directors-candidates