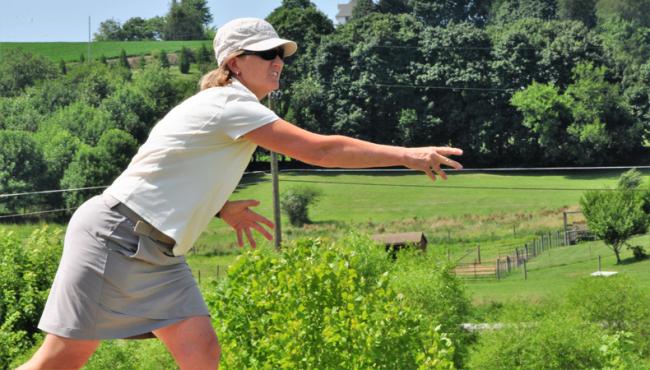 Amateur Masters Women 50+ co-leader Caryn Shearer at Codorus Township Park. Photo: Mike Downes, PDGA
It's hard to imagine competing in an event where, after already having completed five full rounds in three days, you still have one, two, or even two and a half more rounds to go.
That's life here at the 2019 PDGA Amateur Disc Golf World Championships. With each round becoming more and more significant and only one day of preliminary rounds to go, getting tired now simply isn't an option.
While the end of day two left most of the 13 divisions completely up for grabs, the end of day three tells a different story, as many groupings now have someone with a significant lead instead of a questionable one.
The Advanced division has been intense all week, and it will continue to be, as rounds four and five on Thursday at Codorus State Park Red and Codorus State Park Blue left two players tied for the lead: Tennessee's Noah Osborne and Wisconsin's Aaron DeVries. Now five strokes ahead of the rest of the field and heading into the extremely difficult wooded course of Muddy Run for their sixth and final preliminary round, the pressure is on.
Despite being just 17 years old, DeVries has been competing in PDGA events for five years and has done quite well for himself, earning 11 career wins and several strong finishes at previous amateur and/or junior PDGA Majors. He's happy to be at the top of the leaderboard, but isn't planning on making any crazy moves at Muddy Run against the 2019 USADGC runner-up.
"I like challenging courses," DeVries said. "One of the discs that I throw the best is the Roc, and l'll be using it a lot at Muddy. I'm really just trying to not get far ahead of myself and play clean golf. There's no reason to get out of control on those tight fairways."
No reason, indeed. Being off the fairway at Muddy Run can result in multiple throws that might only get you 100 feet or so closer to the pin. Accuracy is key, and patience is a virtue.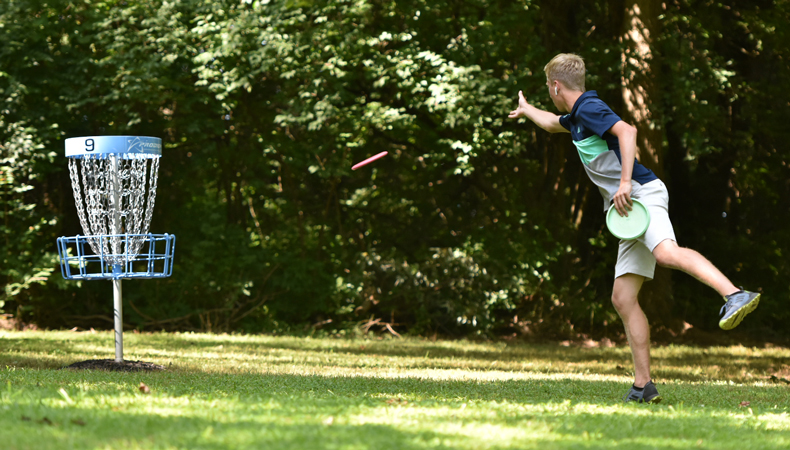 Advanced division co-leader Aaron DeVries hits a birdie putt during round 5 at Codorus State Park Blue. Photo: Matt Gregoire, PDGA
In the Amateur Masters Women 40+ division, we now have the Netherlands' Laura Nagtegaal leading by 13 after an impressive 1013-rated round at Codorus Township on Thursday afternoon. Ohio's Billy Ray Osborn has pulled away in the Amateur Masters 50+ division, now leading the field by 10, while Pennsylvania's own Angie Jones is doing much of the same in the Amateur Masters Women 50+ division with a lead of nine. Three-time Am Worlds champion James Elkins is on pace for his fourth, now seven strokes ahead in the Amateur Masters 55+ division. North Carolina's Donna Stanley now has a whopping lead of 25 in the Amateur Masters Women 60+ division. Coming all the way from Australia, Bruce McNaughton is your seven-stroke leader in the Amateur Masters 65+ division.
Last but not least, it's more than fair at this point to give an early congratulations to Maryland's Paula Bowen, as she will very likely be crowned the Amateur Masters Women 70+ world champion this afternoon after a week-long battle against Judith Gipson.
That's seven divisions with not-so-close battles at the moment, meaning the other six could go any direction by the end of the day. West Virginia's Taylor Crammer and California's Carli Beith both shot the hot round of a 5-over par 65 in the Advanced Women's division at Coyote Hills to finally take the lead away from Montana's Ali Pistora. Colorado's Sammie Jo Guerrero also leapfrogged Pistora with a score of 66. Kallie Howell and Erikah Weir round out the top six, all of whom are just one stroke behind the women ahead of them.
Other tightly contested divisions include the Amateur Masters 40+, where Roger Gagnon has a slim lead of two over Brian Yoe. Caryn Shearer and Jean Mayes are sharing the lead in Amateur Masters Women 55+. Ted Moens is one ahead of George Bodiroga in Amateur Masters 60+, and in the Amateur Masters 70+ division Bob Mohl has both Gary Johnson and Donald Parker right on his heels, one and two behind, respectively.
Stay tuned as the race towards the semifinals and finals continues here at the 2019 PDGA Amateur Disc Golf World Championships in York, PA. Who will make the cut? Only time will tell! Follow along on pdgalive.com.
source: https://www.pdga.com/2019amworlds/news/day-three-wrap-up