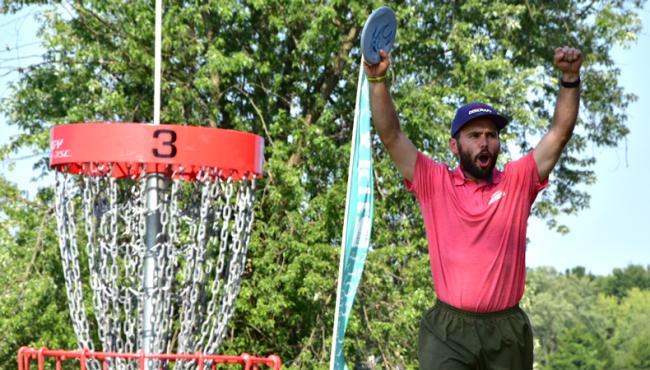 Tennessee's Noah Osborne celebrating his 15-stroke victory in the Advanced division. Photo: Matt Gregoire, PDGA
­It was a long and grueling week in the greater York, Pennsylvania area for the 2019 PDGA Amateur Disc Golf World Championships, and after one last hurrah on Saturday afternoon it had finally come to an end. 12 new world champions were crowned at Codorus State Park (CSP), some with finals that took place in the morning, and some that first faced a morning semifinal round before heading to CSP for their final nine showdowns.
The five or six rounds (depending on the division) that took place in the four days leading up to Saturday's finals left all 12 of the divisions with a name at the top of the leaderboard that would remain there until the last putt hit the chains, whether they were one of the eight divisions that faced a semifinal or not.
While a handful of groups finished the day with three to five strokes separating the eventual winner from the runner-up, most of the final nine loops were simply marches to victory. Only one division had the championship come down to the last hole, the Amateur Masters 60+, where British Columbia's Ted Moens made a four-stroke comeback on Washington's George Bodiroga during the final nine to force a sudden-death playoff. The playoff was short-lived, however, as Moens' drive on the first playoff hole left him out of bounds, as did his follow-up approach.
Congratulations to each and every one of the new world champions listed below and thank you to Tournament Director Chas Ford, Asst. Tournament Director Jason Armstrong, the staff, the volunteers, and everyone else involved that helped make the 2019 PDGA Amateur Disc Golf World Championships Powered by Prodigy such a huge success.
source: https://www.pdga.com/2019amworlds/news/final-round-wrap-up