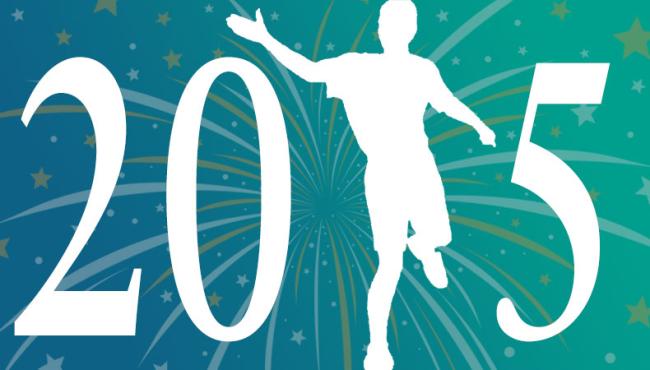 2015 has been a year of progress filled with major milestones for both disc golf and the PDGA. It's difficult to sum up all the amazing things that happened this year in a few short paragraphs, and even more difficult to put into words the level of excitement and anticipation we have for the year to come.
Records, Crushed
Media
As the PDGA Media Manager, one of, if not THE most nail-biting, agonizing moments of the year came at the 2015 Memorial Championships presented by Discraft. Word was spreading quickly that Nate Doss #11794 had just aced Hole 1 at Fountain Hills to start his round, a 400+ foot bomb with nothing but water between the tee and the basket.
It turns out that the sport of disc golf has a champion at ESPN in Mahmoud Bahrani #67436. He reached out to me and asked if anyone captured it on video. After an adrenaline-fueled multi-hour manhunt, I was able to get in touch with Pam Vaughn #54207, a So-Cal disc golfer that had footage of it on her phone. With her permission, we sent the video over to Mahmoud.
We were told to watch the 10pm broadcast of Sportscenter, and that the ace video had a decent chance of making it on Sportscenter's Top 10 Plays, but nothing was guaranteed. As we sat through the broadcast, every segment leading up to the Top 10 seemed to drag on for hours. The anticipation was killing us. But then…https://www.youtube.com/embed/EJOxIoND1SQ
Disc golf had finally made it to Sportscenter! It didn't seem real at the time. It was a barrier once thought to be impossible, disc golf being seen by millions on the world's most watched sports network. Little did we know that this was only the beginning. Disc golf would make it to ESPN in some way, shape, or form a total of seven times during the year, due very much in part to the disc golf fanatic that happens to work for them.
Members
PDGA membership has been steadily growing since we came to be almost 40 years ago, but the last few years have been nothing short of explosive. Each and every year since 2012 a new record has been set for the number of active members and in 2015 we acheived a milestone that might have been scoffed at a decade ago. As the December holidays approached, we finally hit the 30,000 mark. A few days later, six month old Iver Melgård of Norway became PDGA member #80000. Purchased by his mother as a Christmas present, it was the perfect gift, mimicking his father's PDGA number, Einar Melgård #70000!

Click to view full size image.
Events
Following the same trend as our member numbers, the number of PDGA-sactioned disc golf events has grown immensely over the last few years. The year ended with a total of 2,590 events, including seven that were on the PDGA National Tour, 12 PDGA Majors, and 100+ A-Tiers.
Click to view full size image.
PDGA Women
As the sport grows, so does the number of women disc golfers. 2015 was an incredible year for women's disc golf, and who better to sum it up than the head of the PDGA Women's Committee, 3X World Champion Val Jenkins #17495.
"It was an impressive year for women's disc golf, with so many new faces on the podium of our sport's largest events. The World Championship changed hands multiple times during the event, and finished with some of the most heart-wrenching stories between Sarah Hokom's unfortunate car accident and Paige Pierce's bittersweet win for her 3rd PDGA World Championship title. Hannah Leatherman #45396 played in her first US Women's Disc Golf Championship and won on the very last hole against the most competitive field right at her heels. Paige Pierce shot the highest round rating ever at the 2015 Daisy Chains Women's Disc Golf Tournament with an official round rating of 1035. Catrina Allen won the back to back PDGA Majors in Europe and Jessica Weese #50656 won her first title on the PDGA National Tour.

We are very excited about the return of the Women's Global Event (WGE) on May 14, 2016! The WGE is a biennial event started in 2012 with the goal of encouraging women and girls alike to participate in disc golf events and experience personal growth through competitive sports. At the 2012 WGE, we had nearly 600 players in 40 events across 4 countries, and at the 2014 WGE those numbers grew to 1,030 players in 63 events across 6 countries. We expect to double our numbers again in 2016, so please join us by running your own Women's Global Event or by playing in one yourself!"
More information about the 2016 WGE can be found on the PDGA Women's page.
Fundraising for St Jude Children's Research Hospital
In the latter months of 2014, the PDGA proudly joined forces with one of the most notable charitable organizations on the planet, St. Jude Children's Research Hospital. The mission of St. Jude Children's Research Hospital is to advance cures, and means of prevention, for pediatric catastrophic diseases through research and treatment. Consistent with the vision of their founder Danny Thomas, no child is denied treatment based on race, religion or a family's ability to pay.
Disc golfers around the world were called upon to raise money either as individuals or as part of a team, with 100% of the funds going directly to St. Jude. In return, St. Jude's staff helped put on one of the best disc golf events of the year on perhaps the most beautiful venue disc golf has ever seen. Using the ocean-side links of the Bayonet and Black Horse Golf Course in Monterey Bay, California, the inaugural St. Jude Disc Golf Charity Invitational was born.

When it was all said and done, disc golfers raised nearly a quarter of a million dollars for the children of St. Jude. The check was presented at a ceremonial event after the St Jude Disc Golf Charity Invitational came to an end in front of a crowd filled with teary eyes. We can't tell you how proud we are of our members and nonmembers alike for helping further this incredible partnership.
The St. Jude Disc Golf Charity Invitational will return to Bayonet and Black Horse in 2016, taking place on May 26-29. Follow St Jude Disc Golf on Facebook and bookmark stjudediscgolf.com for updates and info.
But Wait, There's More
Technology Improvements
PDGA Technology Director, Steve Ganz #21439 and a handful of trusted developers have been working tirelessly over the past few years to build a scalable technology platform that could handle the record growth of membership and events. After launching a brand new website in 2013, the next major project was the new membership registration system we launched just in time for the 2015 membership season. Without this new system and the myriad of other performance enhancements and functionality improvements, the organization would not have been able to sustain this massive growth. Dozens of other projects have been completed this year as well including the redesign of the PDGA Live Scoring application, a new online officials test, and improved event sanctioning process. The list goes on and on. A big thanks to Steve and his staff for everything they've done and everything they do to keep things moving forward.

PDGA Media Manager – Matt Gregoire #28647 (left), PDGA Technology Director – Steve Ganz #21439 (middle), and PDGA Events Manager – Mike Downes #13898 (right) standing at the "Top of the World", DeLaveaga's Hole 27.
Board of Directors Goes International
Another milestone of 2015 was the induction of the PDGA's first international member of the Board of Directors. On May 20th, 2015, the BOD appointed Hans Nagtegaal #44969 as a replacement for former Board member Karolyn O'Cull #16994. After campaigning to keep his seat during the 2015 PDGA Elections, Hans easily won outright to remain on the board for a full term, which began on September 1st.
Hans Nagtegaal was born in and currently lives in The Netherlands. He started playing disc golf in 2010, and has since developed an impressive resume as an advocate for the sport.
Co-Directed events across Europe and competed across Europe and the USA.
Unanimously elected PDGA EuroTour Manager since 2015, and member of PDGA Europe Committee since 2012.
Currently the Chairman of Disc Golf for the Nederlandse Frisbee Bond, the national association for disc sports in The Netherlands (since 2010).
Winner of 2013 PDGA Europe Volunteer of the Year.
Helped to overhaul the PDGA Europe website.
Has helped unite disc golfers in The Netherlands by encouraging them to form clubs.
Looking Forward
As far as we can tell, 2016 is going to an unbelievable year. We expect to continue growing in member and event numbers, hitting record-breaking new heights yet again. That's nothing new, but there are plenty of things happening in 2016 that are.
On top of the PDGA National Tour Elite Series and the PDGA Majors, several new tours have been introduced for 2016. Jussi Meresmaa's Disc Golf World Tour will be hosting five events around the globe focusing on media exposure. Steve Dodge's Disc Golf Pro Tour will be hosting an additional five events plus a Tour Championship.
Add to that the 2016 Women's Global Event, the 2016 St Jude Disc Golf Charity Invitational, bigger purses, better venues, and it's easy to see that we're all in for a wild ride next year. One thing is certain, if it's excitement you're looking for in 2016, look no further than disc golf.
This sport is finally on the brink of truly reaching the masses. 2015 has been merely the beginning of something much, much bigger.