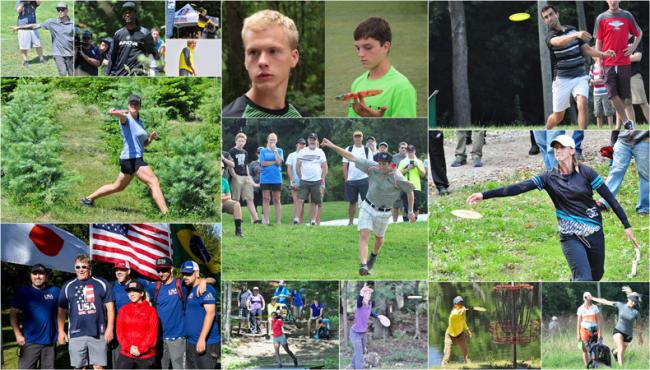 If a moment could be represented in the form of an entire year, 2016 would be a defining moment for disc golf. On top of having record growth once again in both PDGA membership and events, the sport saw new levels of media exposure, new well-organized professional tours, new distance world records, and so much more. No matter which moment or moments defined disc golf in 2016 for you, there's no denying that it was an incredible year.
Records, Crushed. Again.
The number of PDGA members and PDGA sanctioned disc golf events have virtually always moved in a positive direction, but in the last five years, the year-over-year growth has transformed from predictably steady to something that for most organizations would be unimaginable. It's a fantastic problem to have.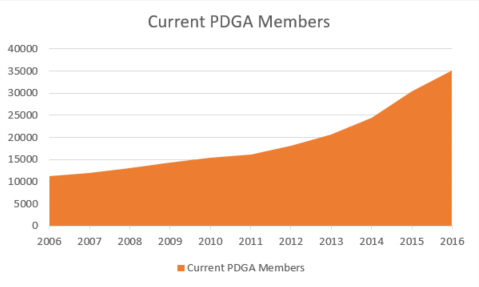 As the end of 2016 neared, the number of current PDGA members soared past the 35k mark, 5,000+ more than the number of current members at the end of 2015, which, by the way, was also another record-breaking year. The 17% growth in current PDGA memberships is impressive to say the least, but it was surpassed by the growth percentage that 2016 saw for PDGA sanctioned events.
With a staff of just 10, it is hard to believe we made it through 2015, a year totaling 2,590 PDGA events. That number was dwarfed by the final number that came in for 2016, an astonishing 19.8% increase to finish at 3,105. That's an average of 60 sanctioned events every single weekend throughout the year, but we all know that most of those events are densely packed into the disc golf "season", loosely defined as April-October.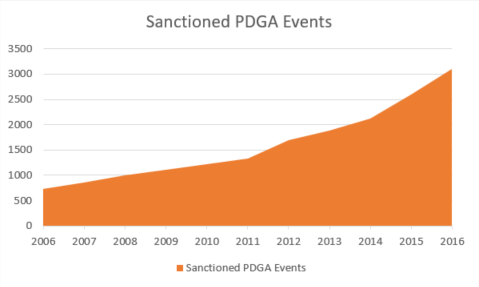 Philo Goes Viral
Disc golf finally made it to ESPN! Wait, never mind, that was 2015. Disc golf has been on ESPN/Sportscenter so many times since the legendary ace by Nate Doss at the 2015 Memorial Championships that we've lost count. However, there was one disc golf clip in 2016 that shattered everyone's expectations; Philo Brathwaite's albatross at the 2016 Beaver State Fling.
As someone that was walking around the course that day, I can tell you that word of it happening spread across Milo McIver State Park as quickly as it would eventually spread throughout the internet. When we first saw the footage that Central Coast Disc Golf captured from two different camera angles, we knew it had the potential to be one of the most popular disc golf clips the world would ever see. But, no one would have predicted that it would explode the way that it did. Not because it wasn't worthy, but because in our sport, we simply aren't used to having that sort of virality.https://www.youtube.com/embed/WJjrkdigzbY
Within just a few hours, the video was picked up by ESPN, Bleacher Report, PGA.com, and dozens of regional sports networks' Twitter accounts, Facebook pages, etc. In the days that followed, the video was used as a meme during the NBA Playoffs by SB Nation, referenced on Comedy Central in an episode of Tosh.O, and would eventually be used by The Science Channel for a segment of the show Outrageous Acts of Science.
As far as the overall reach of a disc golf clip, nothing comes close. The original video on Central Coast Disc Golf's YouTube channel has nearly 1.1 million views, but that's nothing compared to how many times it was viewed on the various social media networks it was shared across. The Central Coast Disc Golf team estimates that it has been viewed over 20 million times, not to mention it was featured on two different cable TV shows!
Who will be in the next truly viral disc golf video? More importantly, what kind of incredible, miraculous throw will it require? Let's hope we find out in 2017!https://www.youtube.com/embed/nWvQVOt6jks
PDGA Opens Office in the Netherlands
One of the most exciting developments of 2016 came after working with our friends across the Atlantic where we have opened the first PDGA office in Europe, in the Netherlands to be more precise. This is the first step in what is envisioned over the next 1-2 years to be the transitioning of PDGA Europe from a Committee of the Board of Directors into the PDGA's registered and largely self-governing European continental chapter.
The process leading to this decision began with the development of a concept paper by International Director Brian Hoeniger and EuroTour Manager Hans Nagtegaal, and culminated with votes in favour of the transition and office opening, first by the PDGA Europe Country Coordinators at their meeting in Finland on August 24, and then by the PDGA Board of Directors at their fall summit on August 31.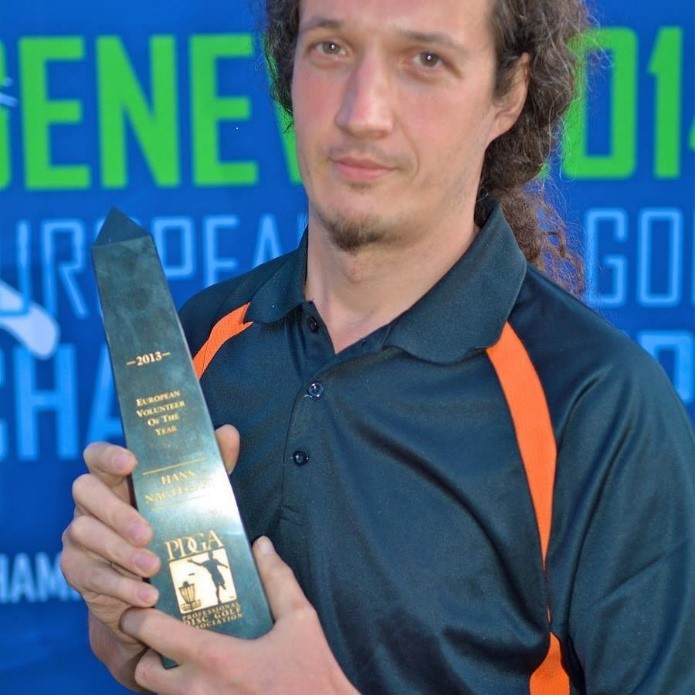 Hans Nagtegaal #44969 holding his 2013 PDGA Europe Volunteer of the Year obelisk.
Plans call for the first European Board of Directors election to be held sometime this year, with this body to initially consist of elected Europeans and appointed PDGA USA representatives. The newly formed Board will then set about the key tasks of drafting a Constitution and set of By-Laws that meet European legal requirements, along with developing agreements between USA and Europe that define and assign rights, roles and responsibilities, including financial relations.
Looking Forward
2017 is chock-full full of epic disc golf events, the first of which is now just a few weeks away; the 2017 Aussie Open in Perth, Australia on January 26-29. The Aussie Open is the first of 11 scheduled PDGA Majors for the year with the last being, as usual, the 2017 United States Disc Golf Championship (USDGC) in Rock Hill, SC.
One of the key changes to the PDGA Majors schedule this year is that what we typically refer to as "Pro Worlds", AKA the Professional Disc Golf World Championships, is now going to be split into "Pro Worlds" and "Pro Masters Worlds". Simply put, only the Open and Open Women's divisions will be competing at the new Pro Worlds. All other professional divisions will be competing at Pro Masters Worlds.
Splitting the field inherently reduces the amount of stress put on Tournament Directors while also allowing for more accurate course design or course selection based on the skill levels of different divisions. Perhaps most importantly, the split into Pro Worlds and Pro Masters Worlds opens the door to smaller venues that want to bid on hosting one of these events in the future, but never could in the past because of their size, number of available courses, etc.
The PDGA National Tour continues once again in 2017 with six total events beginning in February at the Gentlemen's Club Challenge presented by Innova Champion Discs in Las Vegas, Nevada and finishing at the International Disc Golf Center in Appling, Georgia for the Hall of Fame Classic – National Tour Finale. The International Disc Golf Center will also serve as host of the 2017 Pro Worlds.https://www.instagram.com/p/BLBfCiqhjIL/embed/?cr=1&v=7&wp=548&rd=https%3A%2F%2Fwww.pdga.com&rp=%2Fbar-set-record-height-2016-aimed-higher-2017#%7B%22ci%22%3A0%2C%22os%22%3A3891.025000004447%7D
The Aussie Open is the only PDGA Major where you'll find kangaroos!
The Disc Golf World Tour has scheduled four events for 2017 including two PDGA Majors: the 2017 Aussie Open and the 2017 USDGC. The Disc Golf Pro Tour will be on the road 10 times in 2017 with its first event being the 2017 Memorial Championship presented by Discraft in Phoenix, Arizona and its Tour Championship being in Vermont once again after the conclusion of the Green Mountain Championships.
European disc golfers have an enormous year to look forward to with six events scheduled for the EuroProTour 2017 and an additional 10 scheduled for the EuroTour 2017. These events, which run April-September, give players a chance to play championship disc golf in 10 different countries ranging from Iceland to the Czech Republic. And if that weren't enough, two of the four Disc Golf World Tour events take place in Europe as well; the Konopiště Open in the Czech Republic and the European Open in Finland.
Add to this already exhausting list an additional 100+ A-Tiers and roughly 3000 more B-Tier and C-Tier events, and it's more than fair to say that 2017 is going to be an extremely busy and incredible year for disc golf!
source: https://www.pdga.com/bar-set-record-height-2016-aimed-higher-2017